June 2005
Marion Hodgson
It began as an email to USUA...
To: USUA
Subject: USUA BFI flies 83 year old mother in flying boat
Hello USUA, My mother was a WWII pilot. She was a WASP. She was recently inducted into the Texas Aviation Hall of Fame in Galveston. When she came down from Wichita Falls (TX) for that honor, she wanted to fly with me in my Flying Boat. So at her age of 83 I took her up over Lake Conroe (north of Houston).She said that was the best part of her trip.This "event" was covered by a local newspaper, the Conroe Courier. Attached are pictures and a story that appeared on the front page. There are also some photos of the Hall of Fame event.
Thanks,Sheldon Hodgson USUA BFI #A87571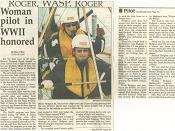 Marion Hodgson taking flight in flying boat. Courtesy of the Conroe Courier.
(Click on article to view full sized image)

It seems, that Marion, an 83 years young former pilot and author from Wichita Falls TX, was a WASP pilot during WWII. The WASPs (Women Airforce Service Pilots) was little known in the 1940's. It assigned women pilots to duties often assigned to men; such as testing, repairing and ferrying aircraft from factory to airbases. The program was introduced shortly after Pearl Harbor, and was disbanded when the war ended. "They told us to go back to the kitchen" Marion reported, "I figured that if I was going to be sent back to the kitchen I would write a cookbook. I ended up writing four of them." Marion Stegeman Hodgson has also authored a book about her experiences as a WASP. Her book is called Winning My Wings.

For her valiant efforts, and unheralded service to her country as a WASP pilot, Marion was recently inducted into the Texas Aviation Hall Of Fame. USUA also would like to take this opportunity to thank her, and the hundreds of women nationwide for their selfless sacrifices in support of America during WWII.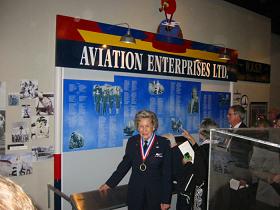 Marion Hodgson inducted into the Texas Aviation Hall of Fame.
(Click on photo to view full sized image)

After her induction into the Hall Of Fame, and many years on the ground, Marion's son Sheldon Hodgson (USUA seaplane trike pilot and BFI A87571) decided to fulfill her dream for open cockpit flying once again. Sheldon (with his Aliseo Flying Boat) took her up for an Introductory Flight Lesson over Texas' Lake Conroe. "It was very turbulent up there," Mrs. Hodgson said, "but I loved it. I forget how beautiful it is up there."